If you're loyal to a certain studio or instructor for your personal yoga practice, at home yoga might sound less productive. When going to a class, you have the instructor in front of you to offer corrections or modifications, as well as a group setting to hold you accountable and provide support. 
However, if a class feels intimidating, or you're looking for more flexibility and exploration in your practice, trying out an at-home routine might be a good fit for you.
Overall health 
There are a number of benefits to your overall health when you practice yoga. Mindfulness, sleep and overall well-being have been shown to improve with at-home yoga practices. The trick is that the duration of your at-home practice matters less than the frequency with which you practice.
So, practicing even for ten minutes a day can improve your physical and mental health! And for many, it's much easier to practice every day at home than to make it across town to a studio every day after work.
You also have no excuses. Your at-home practice only requires yourself and space for a mat or towel underneath you, so the excuses of lacking the energy or time to get to a class every day disappear. You can even do a yoga practice with a pillow and blanket, like this one from Yoga With Adriene. (Her channel has 11 million subscribers on YouTube, with hundreds of videos to choose from!)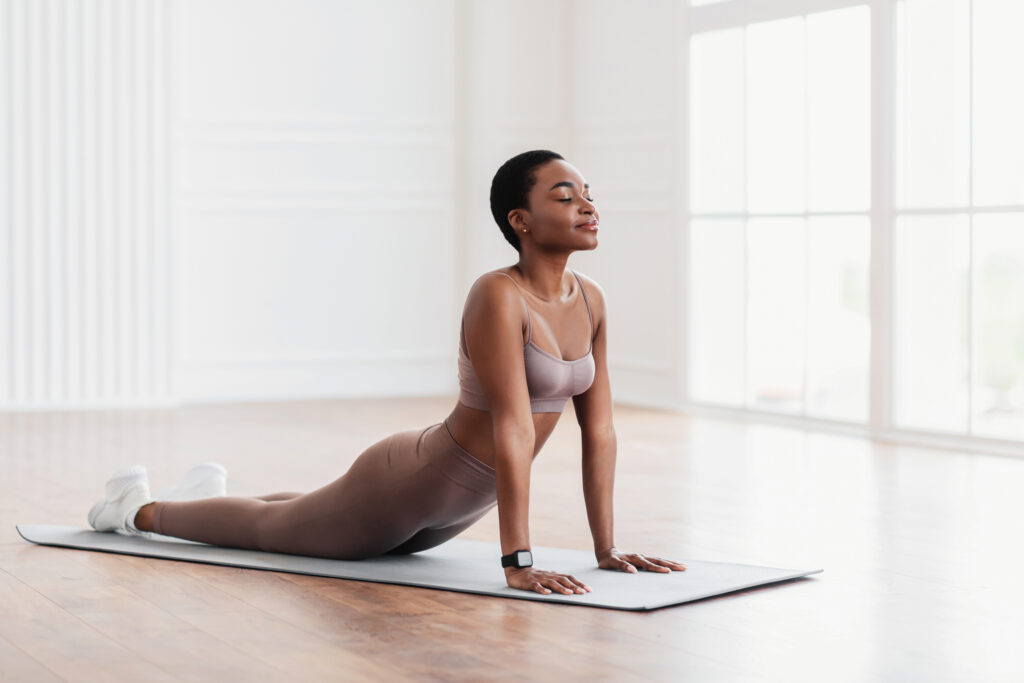 Stress management when you need it
The great thing about yoga at home is that you don't have to make it to class at 7 pm sharp. You can choose to begin your morning with practice and set an intention for your day. Or, you can practice on your lunch break for 20 minutes if you work from home. Or, unwind before bed with a standard flow routine.
Practicing at home gives you the flexibility to choose when you need your practice. And you can try something new to switch it up every day!
Explore and play
Even for the most seasoned practitioners, time alone to explore your body's movements and to play with poses and variations can make a world of difference. In a class setting, you're pretty much limited to the flow or routine set out by the instructor. At home, you might find yourself in childs pose for 15 minutes, or you could set aside 5 min at the end of every day to work on a challenging new pose like headstand variations. 
By showing up for yourself and choosing to practice, you're setting yourself free to find what feels comfortable for your own practice. Yoga can be a deeply intimate and personal experience to connect to yourself.
Save time and money
Some of the more obvious benefits of at-home yoga practice include saving valuable time and money. Everyone has their own schedule and saving yourself the hassle of commuting to a studio for class can give you time back in your day that you didn't know you were missing. Choosing the length and duration of your routines at home also saves you time, since you aren't locked into an hour-long class.
Most notably, practicing at home saves you money. Yoga memberships for nationwide studios like CorePower Yoga can cost upwards of $50 a month.
YouTube is a great starting point to find an instructor or practice that you like (if you prefer to be guided).
Or, explore the liberation that comes with at-home solo practice and create your own flow.
---